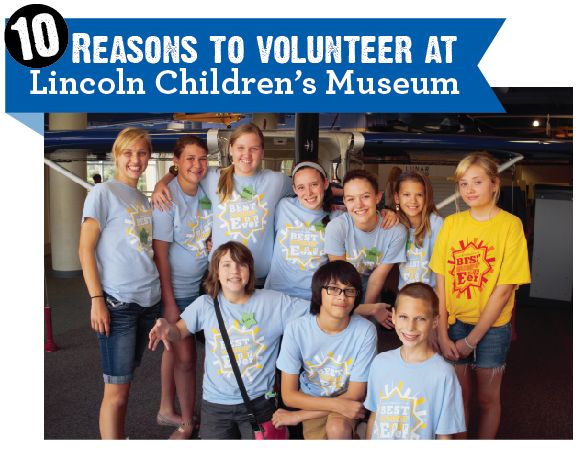 | | |
| --- | --- |
| 1 | Be part of a dynamic and creative team! |
| 2 | Learn life-long skills that will benefit you in countless ways. |
| 3 | Positively influence younger youth by being a role model. |
| 4 | Support great community initiatives and help enhance guests' experiences. |
| 5 | Get a behind the scenes look at what it takes to run a Children's Museum. Maybe you could be the boss someday! |
| 6 | Grow and stretch yourself professionally by learning lifelong skills such as leadership, communication and accountability. |
| 7 | Become a healthier person inside and out! |
| 8 | Many high schools and colleges require volunteer hours for graduation. |
| 9 | Experience something new. New exhibits, programs, camps and events are around every corner. |
| 10 | It's just plain fun! |
---
Youth Volunteer Program - VolunTeens
The Lincoln Children's Museum's VolunTeen Volunteer Program is for youth ages 13 to 16 (age on June 1). 
All applicants must complete a youth volunteer application. A $75.00 processing fee is required with the application, which covers the cost of a background check, t-shirt, and youth leadership development program. The fee is refundable if applicant is not accepted into the program. The fee is non-refundable and non-transferable should the applicant drop out of the program after being accepted or if the applicant fails to meet the program expectations.
Once you have completed the application, you can bring it into the museum with your deposit, or mail to:
Lincoln Children's Museum
Lindsay Bartlett
1420 P Street
Lincoln, NE 68508                                                                                                                                                                                             
If accepted, applicants will receive an acceptance email by April 14th. Accepted applicants will need to attend one mandatory orientation held in early May, and an all day Young Leaders Academy session at Talent Plus on June 1. Prior to this session students will take an online talent assessment, then at the training they will learn about their own talents and how to recognize and develop talents in others. We will use these skills throughout the summer and check in on them as well.
VolunTeen volunteer shifts will be available from May 29th to August 10th. Shifts will be assigned on a first received basis. Shifts available will be Monday through Friday from 8:00 a.m. to 12:30 p.m. or 12:30 p.m. to 5:00 p.m. Youth volunteers will be required to work at least two shifts a week. 
If you have any questions please email lbartlett@lincolnchildrensmuseum.org