Membership
No matter the size of your family, a membership is a great deal. Memberships also make great gifts promising days of family fun and memories.
It's good to be a member: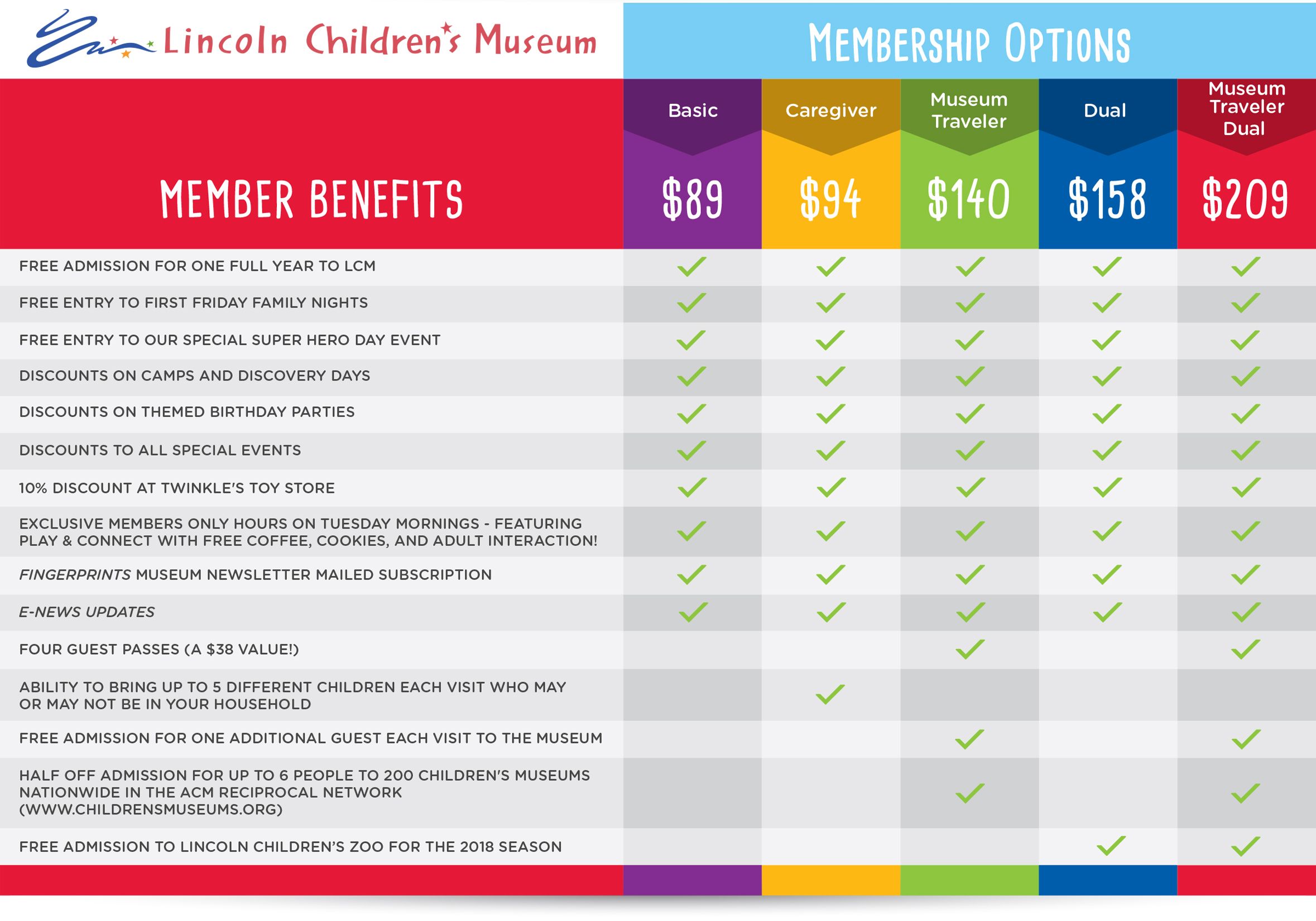 ---
Basic Membership: $89   Buy Now
Up to two adults living in the same household and dependent children under age 18 OR up to two grandparents and their grandchildren under age 18.
Basic Membership Plus One: $109   Buy Now
Military & First Responder Basic Membership: 20% discount (only applicable to Basic Membership)
A valid ID is required to take advantage of this offer and it must be purchased in person at the Welcome Desk. All active, reserve or retired military personnel and currently employed emergency responders are eligible.
---
Caregiver Membership: $94   Buy Now
Up to two caregivers and up to five children under their direct care.
Caregiver Membership Plus One: $114   Buy Now
---
Museum Traveler: $140   Buy Now
A reciprocal membership with all the benefits of a Basic Membership Plus One and reduced admission for up to 6 people to nearly 200 children's museums nationwide. Now also comes with 4 Free Guest Passes!
---
V.I.G. (Very Important Grandparent) Membership:
The Very Important Grandparent program is a special opportunity to gain access to a number of unique perks including exclusive events, discounts and special considerations. Learn about all three available levels and how to purchase your V.I.G. Membership.
---
Dual Membership: $158   Buy Now
Receive all the benefits of a general membership with the added bonus of a membership to the Lincoln Children's Zoo.
Dual Membership with Museum Plus One: $178   Buy Now
Dual Membership with Museum & Zoo Plus One: $198   Buy Now
Dual Membership with Museum Traveler: $209   Buy Now
---
Prices and availability are subject to change without notice. All specials and promotions limited to stock on hand and capacity restrictions. We reserve the right to limit quantities on promotion products.
For all questions about membership, please email memberships@lincolnchildrensmuseum.org